I received a quick question today that I decided to answer as a blog post. "Hi, just wanted your thoughts on GetResponse or Aweber and which you choose. I'm also wondering which is recommended for integration with Nanacast. Thanks!" Read on to discovery my answer to this question.

This isn't an easy question to answer because there are a lot of good email autoresponder companies that are supported by Nanacast. I personally recommend GetResponse because I've used them for many years without any problems. It's easier for me to help clients that are using GetResponse since I can jump in my account and easily explain the service with videos. However, all the supported companies are excellent and provide top-tier email services to the public. You really can't go wrong picking any of them since they're all trusted by Google, Yahoo, Microsoft, AOL, Comcast and other ESP's.
So if you're worried about compatibility or ease of setup…don't. They're all compatible and easily integrate with Nanacast as shown below. Perhaps a more important question to ask yourself is this…
Which Email Provider Meets My Company's Needs the Best?
Since they're all good email providers that provide similar services, we need to look at this from a different angle.
What exactly do you need to help grow your company? For example…
RSS to Email: if you have a blog and you want to automatically email your subscribers about new blog posts or send a weekly digest of blog posts, then look at Aweber, GetResponse and MailChimp since they provide these features (though Aweber is a bit better at this task).
CRM Systems: If you need a CRM to manage customers, actions, tasks and the like, then look at InfusionSoft, SendPepper and OfficeAutopilot since they exclusively provide these options.
Time-Based Email Scheduling: If you need to send autoresponder email at a specific time, on specific days, then look at Aweber, GetResponse and InfusionSoft.
Software Popularity: If you run WordPress and use a lot of plugins, you should check and see which email providers are supported by those plugins. Aweber, MailChimp and GetResponse are normally integrated by default in most WordPress plugins so you'll have more "out of the box" compatibility with them.
So take a good look at your company and needs and see which autoresponder offers the best "bang for your buck" for your business and future growth. That's the company you should pick!
Now, let's take a look at a full list of supported email providers in Nanacast…
Full List of Email & Autoresponder Companies Supported by Nanacast
AutoResponsePlus
Other 3rd Part List Services
GetResponse with Nanacast
I personally use and recommend GetResponse since I've been with them for years without any issues. Nanacast integrates directly with their API and it makes it very easy to setup integration. In fact, here is the actual setup screen for GetResponse. All it needs is one drop down, your API key and the name of your campaign.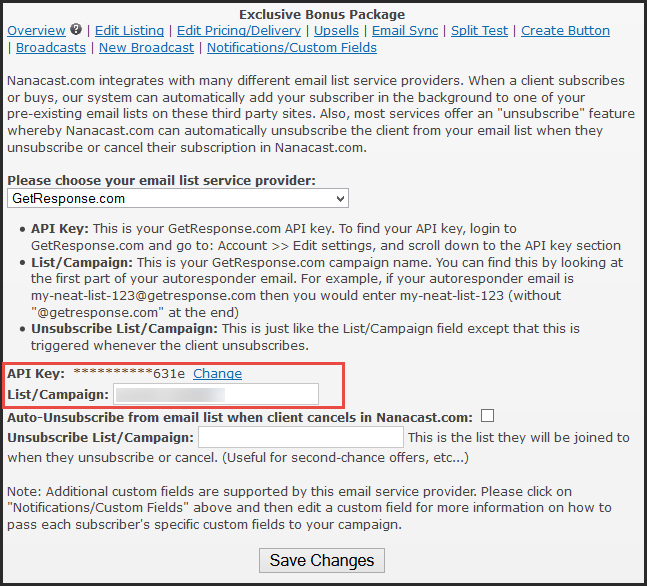 Aweber with Nanacast
Nanacast also supports Aweber, which is a popular and recommended email provider in the IM community. The Aweber setup requires a few more steps since it uses the Aweber Email Parser. Here is a screenshot from the setup page with instructions.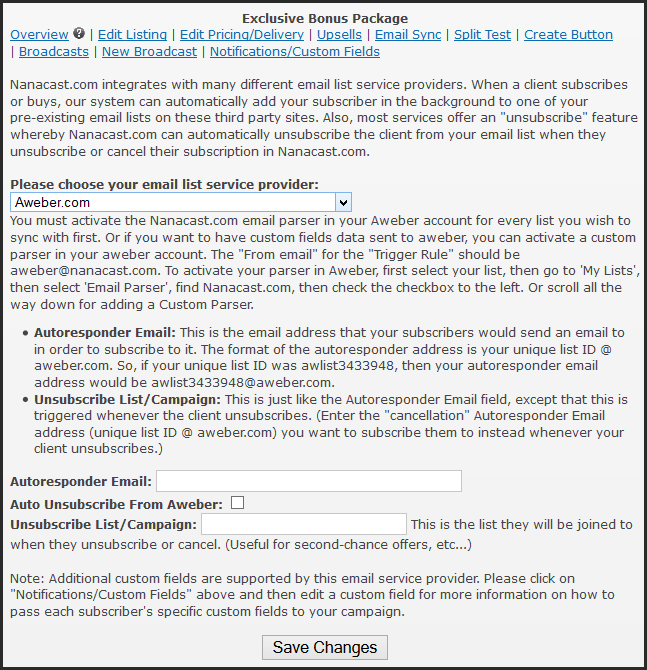 MailChimp with Nanacast
MailChimp is very, very popular and they provide a free account for up to 2000 subscribers. Nanacast has made it very easy to integrate by providing direct access to their API. See the settings below.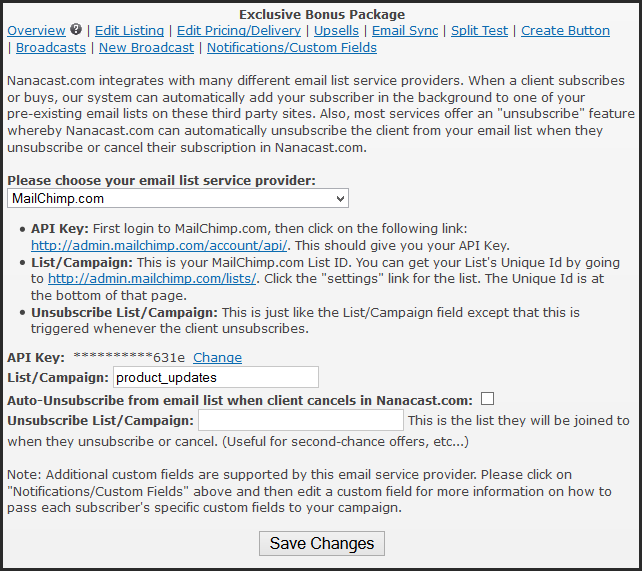 Constant Contact with Nanacast
Constant Contact is a larger, mainstream email provider. Nanacast directly integrated with their API as well. See the screenshot below.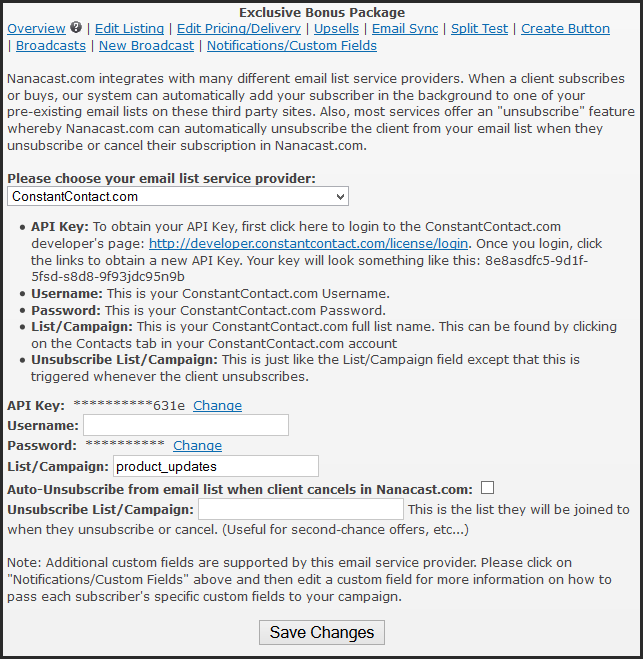 iContact with Nanacast
iContact is another big email provider supported by Nanacast. Their setup is a tad more involved since you need to register an APP with them. I've blurred out my app details but the setup is pretty straightforward. See below.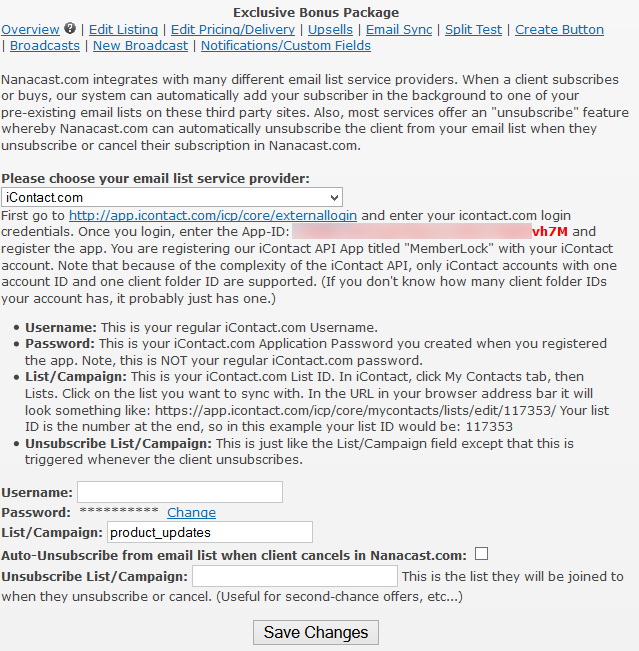 SendPepper and OfficeAutoPilot with Nanacast
SendPepper and OfficeAutoPilot use the same settings in Nanacast since they're owned by the same company. You can see the setup screen below.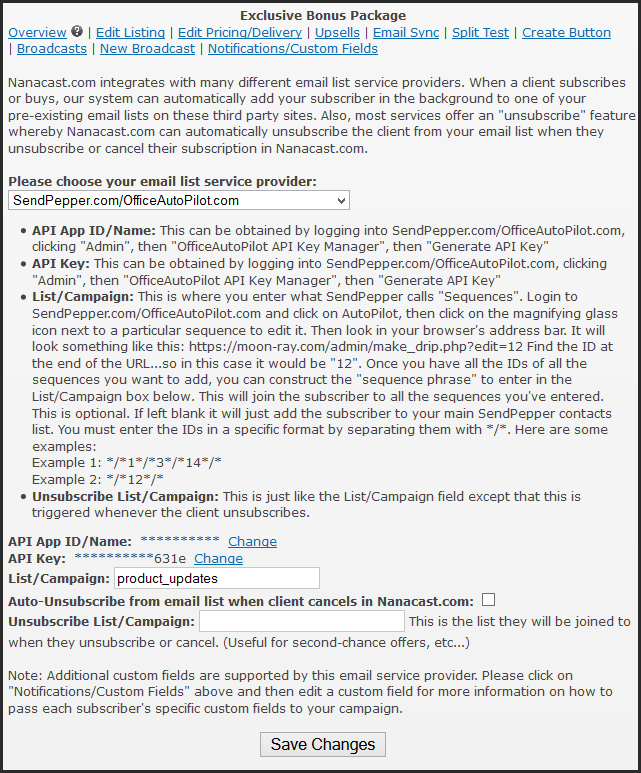 InfusionSoft with Nanacast
If you're using InfusionSoft to send out email, here are the settings for Nanacast to integrate with them.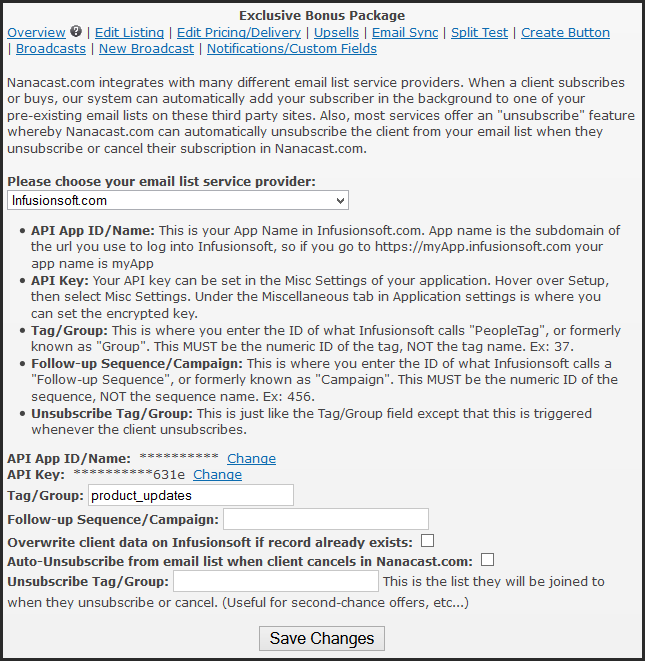 AutoResponsePlus or ARP Reach with Nanacast
Finally, Nanacast thought about the ARP Reach and old AutoResponsePlus users as well. These are self-hosted software scripts that receive an email at a unique address and add the subscriber to a list. Nanacast will send an email with name, email and IP to the designated email address to trigger the signup. Here's the settings.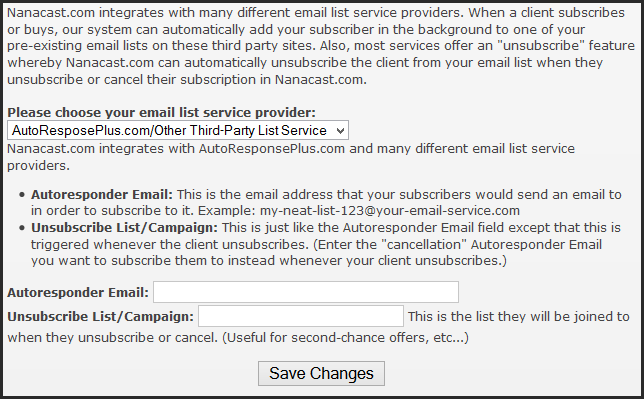 That's it for now. As you can see it's pretty easy to integrate the above email companies with Nanacast. If you need help, please contact me and I'll be happy to chat with you about your project.